Sold Out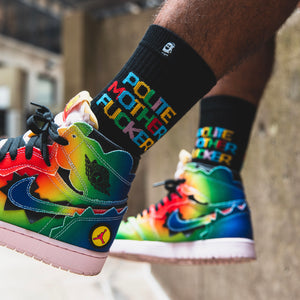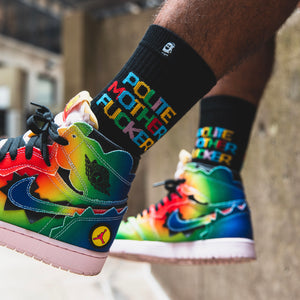 Polite MF
Size Chart


| | M | L |
| --- | --- | --- |
| Men's | 4-9 | 9-13 |
| Women's | 6-11 | 11-13.5 |
You've got some good ass manners, friend. Keeping it classy has never looked so damn cool with our Polite MF statement socks. These not so basic socks capture what it means to be a classy bitch, a sophisticated prick, an elegant asshole. Your mom might ask why you always eat so much at family gatherings and to that you'll reply, "because I'm a polite motherfucker." Cheers to that! 
Art By: Hugh Jazz
Crew Height
Light Cushioning
71% combed cotton, 16% polyester, 10% nylon, 3% elastane

Product Care:
Machine Wash in 40°C/ 104°F
Avoid Bleaching or Ironing the socks.
Socks will last longer if kept out of the dryer.